There is an increasing number of foreigner tourists that arrive to Uruguay lured by fishing of the Golden Dorado (Salminus brasiliensis) as well as hunting.
Veronica Rey, in charge of marketing for the company River Plate Outfitters, tells us all about it.
How and when has this activity begun?

Everything started in 1986 only with hunting -not in the areas we are today- looking for the best hunting lands in Uruguay. Today we keep as destinations the area near Carmelo and Punta del Este. Our clients stay at the Four Seasons or in luxury country hotels near Punta del Este. We are in Argentina as well and the programs are very similar. In Brazil the Amazon offers completely different programs.
Do you have competition here and in the rest of the destinations?

Yes, we do, except for the Golden Dorado fishing tours in Salto. There we are the only ones licensed to operate.
Why have you specialized in fishing and minor hunt specifically?

Fishing and hunting are part of the culture of our target clients who are in the United States. The founder of River Plate Outfitters, Luis Brown, is American. He has studied in Wharton Business School. He is a pioneer in the field and continues to be so by developing his service looking to innovate and offer the best quality.
What fishing programs do you offer in Uruguay?

We offer Sport fishing -catch and release- to preserve the species. River Plate Outfitters and its operation of River Plate Anglers (River Plate Pesca for the Spanish market) obtained the only license to fish in a reserve located below the Salto Grande dam in the Uruguay River. The clients stay at the Horacio Quiroga Hotel and fish near the dam where there are Golden Dorado bites every 3 to 5 minutes and 22 world records have been achieved in the four last seasons. The world record is held by Andre de Button, a client of River Plate Outfitters, with a Golden Dorado of 25.28 kilos in 2006. Our clients can fish in what we call "Salto Grande", where the sport is exclusive and the chances of getting a world record are a lot better, in addition the bites are very frequent. They can also fish where we call "Salto Chico".
The Dorado is highly sought-after by anglers, both for its delicious taste and fighting ability. It is, however, extremely difficult to catch. The aggressive nature of the dorado, its high jumps, and great fighting strength and stamina have created a great competitive market among anglers from all corners of the world, traversing South American waters in hopes of hooking a dorado.
What hunting programs do you offer?

The hunting practiced in Uruguay is of partridge, large pigeon, and small pigeon. Clients can hunt either but the best we have is a package called Mixed Bag where clients can hunt both species. The season is from May to July. Although the pigeon hunt is year round, the partridge is only in those months. We have areas which have been selected specifically for hunting and it is close to lodging. Clients can bring their own arms or they can rent them at each ranch. This type of tourism is interesting because Uruguay is thought of as a summer destination.
Is there legislation for this activity?

Yes, there is. The government requires us to pay licenses and permits for fire arms.
What do you do with the animals that have been caught?

Near the hunting lands there are rural areas of low resources so everything that is pigeons or partridges are taken to nearby towns or villages and given to the locals.
What are your clients like?

Mainly Americans, between the ages of 40 and 65 of high net worth who have the culture of hunting and fishing. We also have an interesting public from Brazil and the rest of South America. Presently the market is starting to expand relating to age and geography. There are also women and families. The Golden Dorado program is perfect for families because the fishing is exciting and the hotel offers activities for the whole family. We have a large group of clients which come each year and are faithful to us and the growing amount of new clients every year.
How do you capture foreign clients?

We are in contact with travel agencies with which we have worked for many years, through the internet and there are some frequent clients who have created a special bond with the tour operators.
What is your differential regarding your competitors?

We have competitors in and out of the country. I think the difference is that Uruguay is a destination that the Americans find peaceful and safe which is not the case for other countries in South America.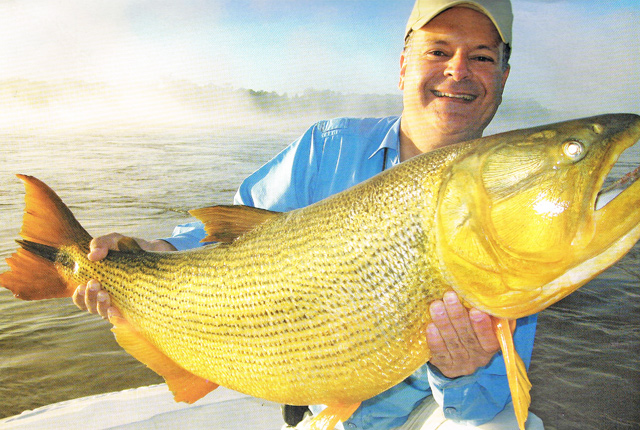 Source: Paula Magazine