More than 80 travelers have rated it on Trip Advisor landing second place of the best Bed and Breakfasts in Colonia del Sacramento.

Very close to the center of Colonia del Sacramento you can find Colonia Suite Bed and Breakfast in a building from 1832 that has been carefully restored. Its interior has been designed and decorated with a European aesthetics including many art pieces from local artists.
Fred, its owner, who specializes in historic building restoring, decided to keep the original elements and used traditional materials for this project. In Colonia Suite Bed and Breakfast you can appreciate the history of the place. This building used to be a blacksmith and later a fire station.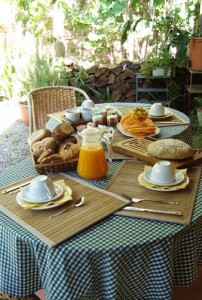 This B&B has three suites and each one has an ensuite bathroom, a small living room and a bar area. In each corner you can appreciate art pieces from local artists and antiques from local antique shops. Colonia Suite has a patio where guests can enjoy a sunny breakfast, an ample kitchen and a great lounge area with a great library. In the warm and cozy lounge guests relax and enjoy reading, play chess or connect to the internet via wi fi. There is a great selection of films on DVD, thought for film lovers.
These are some of the travelers' opinions:

Colonia Suites is a special place. The proprietor and artist-in-residence, Fred, has created a beautiful bed and breakfast with rustic country charm. The rooms are decorated with one-of-a-kind pieces of furniture blended perfectly with a handful of modern items. There are wonderful pieces of authentic art in every room (including the bathrooms) created by Fred or other local artists. … They are warm and kind and very helpful without being overbearing. Fred has clearly taken time to seek out and choose good quality things for his guests including such details as the breads, croissants, cheese and fruit. And breakfast is served in a lovely, peaceful garden. The guests of Colonia Suites are the beneficiaries of Fred's artistic vision and sensibility. I highly recommend Colonia Suites and intend to return here myself some day.
Our time at Colonia Suites was one of the highlights of our 2-week honeymoon in Argentina and Uruguay. It's a great location, on a quiet street but extremely convenient to the port and old part of town. The B & B has so much charm and character – we fell in love with it as soon as we walked in. Fred and Jackie welcomed us warmly, and made sure we had all the information we needed to make the most of our experience in Colonia. The breakfast was fresh, generous, and delicious. The Jean Miro suite was extremely spacious and beautifully decorated – staying there was truly a joy!
Colonia Suite Bed & Breakfast is one of the exclusive properties for sale that Caldeyro Victorica Real Estate offers. Do not hesitate to contact us for more information.