Marina St. Lucia: between Montevideo and Colonia, on the western edge of the Santa Lucia river, is located the first nautical urbanization of our country.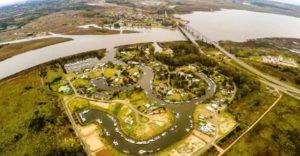 The project began in the late 80s, with the initiative of a group of entrepreneurs to acquire the old Casarino shipyard and its adjacent land, in order to have a seaside villa for lovers of boats, fishing and activities offered by the Saint Lucia river and its proximity to the Rio de la Plata river.
Thanks to its strategic location -in front of Santiago Vazquez's bridge, just 15 minutes from Montevideo and one hour and a half from Colonia de Sacramento- the nautical town grew rapidly to become one of the largest private urban developments in the country.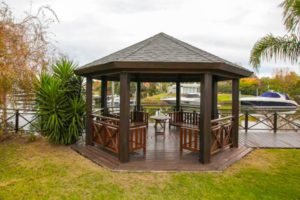 Marina St. Lucia provides all services for occasional visitors and permanent residents: over 100 lots with individual boxes floating marinas or moorings, dock, maintenance and security 24×7, year round.
The complex has also a clubhouse with bar and gourmet restaurant and offers a privileged view of the countryside surrounding of the St. Lucia wetlands, a unique ecosystem and the corresponding  biodiversity found on its beaches and native forests.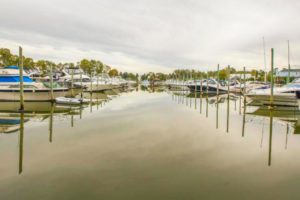 Because of its enormous importance in regulating water resources and its great scenic and recreational value, the area is highly protected, ensuring long-term invariance and turning the area into a strategic spot for lovers of recreational boating, fishing sports and native birds observation.
The development project was carried out by the Architect Samuel Flores Flores and administrated by the Firm Luis Lecueder.
See the full list of properties and land available in Marina St. Lucia marketed by Caldeyro Victorica Real Estate.