Recently, Caldeyro Victorica Real Estate showcased the San Pedro Island for sale on the Private Islands Magazine. San Pedro is a 16,000 acres island with potential for tourism developments and it is located in the southern region of Chile, near Chiloe Island. Prospective buyers will find in San Pedro a paradise waiting to be discovered.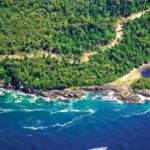 Located in the southern region of Chile in South America, Isla San Pedro is like a doorway into a primeval world where unique species of flora and fauna flourish amidst a picturesque backdrop of the lower Andean mountains, majestic lakes and old-growth forests. The island itself includes two interior lakes, numerous sandy beaches set on peaceful bays and steadfast cliffs rising to more than 500 meters above sea level.
Surveyed by Charles Darwin in 1834 on his Voyage of the HMS Beagle, this sprawling paradise is now available for sale. Isla San Pedro is a complete private island and boasts 16,000 acres making the potential for resort development or conservational research overwhelmingly positive. Boating, hiking, camping, nature photography, bird watching, kayaking, fishing and other activities are perfect fits for the island. There are over 21 kilometers of road circling the island and electricity is provided by onsite generators. There are several cabins, a scenic lodge with sweeping ocean and mountains views and a boat dock already in place on the island.
Isla San Pedro is con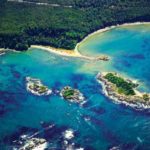 sidered somewhat of a treasured relic. The island has remained largely unchanged throughout the many centuries that Chile has been inhabited and developed. While many areas around the island were developed, San Pedro has been protected and left mostly wild. Prospective buyers will find the island a veritable paradise waiting to be discovered and explored. Opportunities abound here.
San Pedro is accessed by way of the Greater Island of Chiloe – a lush picturesque area of northern Patagonia that features dense evergreen forests, rolling hills and quaint coastal villages. Influenced by Spanish colonial settlement and the Huilliche Indians, the local culture is distinctive and unique. Lovely old wooden churches, arts and crafts, friendly locals called Chilotes, freshly-caught seafood, and a rich history filled with regional folklore are yours to discover in Chiloe. No matter which season you visit the island, there is something beautiful to find here every time.
Chile is bordered by Peru, Bolivia, and Argentina – all democratic countries with representative governments who are pursuing sound policies for steady growth and stability. The Chilean government supports strong financial institutions, and actively encourages foreign investment, providing foreign companies with the same legal protections and rights as any domestic company. Foreign investors will find that Chile is a hospitable business environment. The country's bond rating is the highest in all of South America, and Chile now has a Free Trade Agreement with the United States, opening up even more opportunities.
To learn more about this magnificent property and opportunity, contact
Rodolfo Victorica of Caldeyro Victorica Real Estate.