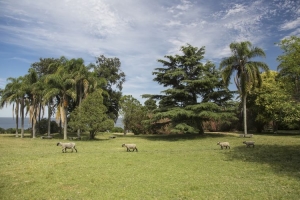 If you ever dreamed to combine the tranquility of country living with the convenience of proximity to the city center of the capital, be amazed by the unique approach of La Baguala.
Just 20 minutes from downtown, on the banks of the Santa Lucia, on the west coast of Montevideo, La Baguala offers a dreamlike experience for residents and guests.
His impressive country hotel is housed in a classic residence for 40 years and has 12 bright and spacious suites, a la carte restaurant and access to various activities offered to visitors looking for an area of ​​recreation and relaxation without the inconvenience of having to travel long distances to find them, among which are: children's playroom, billiard room and games room, pool, barbecue, rooms for social and corporate events with its own catering, equestrian center with first class facilities for sports riding and walking, a traditional wine cellar with social space.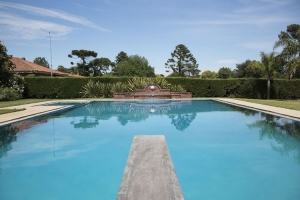 Its also-facilities are enjoyed as Club House by permanent residents of La Baguala. To ensure a truly exceptional experience to residents and investors, its 412 hectares have been carefully divided in maritime farms 3 hectares each, so that all offer access to beaches and panoramic sea views or undulating slopes illustrating scenery singular beauty.
The project offers the opportunity to choose any of the 112 farms on the mouth of the Santa Lucía river and access the benefits that gives the natural environment, such as water courses, white sand beaches and trails to practice various disciplines, such as cycling, fishing, horseback riding and trekking. The project provides access to infrastructure-also dedicated to sport and relaxation, among which fitness center, tennis and racquetball and SPA stand.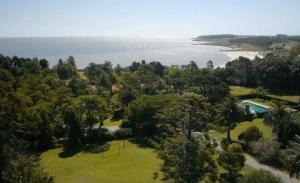 At present, it is under construction a chapel and a heliport.
Aware of the need to preserve the environment, the lighting system of access roads and public spaces is powered by solar energy.
Caldeyro Victoria invites you to learn more about the latest real estate venture Studio Gomez Platero and FIDEI: La Baguala, the best kept secret of Montevideo.