Under the motto "Feeding the Planet, Energy for Life", it was held the 2015 edition of the Milan Expo. Uruguay was present with a dazzling pavilion designed by the architects of INAC (National Meat Institute), focused on offering visitors a multisensory experience approach to our country.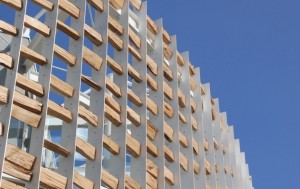 About 450,000 people visited the spectacular three-story structure, built with reusable wood and steel and conceived under the theme "Life grows in Uruguay".
In it, visitors were greeted with information about our country, highlighting both the quality of its agro-intelligent production, through the use of renewable energy, latest-generation technology and the social progress that position us as leaders in Latin America, in terms of quality of life and respect for human rights and diversity.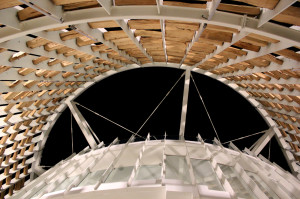 Then, through the Ramp Sound, attendees could experience a sample of the soundscapes that identify our territory: from the voices of the barkers and the waves crashing on the ocean coast to the crackle of wood burning and the distinctive drum keys during the Carnival "Llamadas".
Those advancing on the path, found an impressive hall surrounded by monitors supported by robotic arms, where was projected scenes of our traditional lifestyle, in permanent dialogue with the new customs arising from the technological development experienced by our country.
A particularly prominent place occupied the space dedicated to gastronomy: " Uruguay Natural Gourmet Grill", which received more than 80,000 diners throughout the exhibition, 30,000 of which participated in a brilliant experience to corroborate the traceability of the meat offered through an application especially designed to inform about the Product, from cattle farm to the consumer. According to the Uruguay XXI Institute, the activity "helped consolidate the country as a reliable producer of foods".
The calendar of events Uruguayan Pavilion at Expo 2015 Milan included the presentation of various representative spectacles of our country, like tango, milonga and candombe performances.
In this regard, the highlight of the activities was experienced last August 25 on the occasion of the commemoration of the anniversary of the Declaration of Independence and its conclusion was focused on the performance of the prestigious Uruguayan artist and awarded Oscar winning, Jorge Drexler.