Punta del Diablo, the small, picturesque fishing village turns 70 years, since the establishment of the first settlers and has become the preferred destination for local and foreign tourists.
Visitors to this stretch of 10 km of coastline on the Atlantic Ocean fall subjugated to the charms of this fishing village whose stable population is only 650 inhabitants, mostly fishermen and local craftsmen.
Punta del Diablo offers several proposals for those who cross it, both day and night.
While the intrepid surfers are concentrated in the Rivero Beach or Widow Beach -the most southern of them- where currents converge generating precious quality waves for lovers of this discipline, families find their place on the northern "Fisherman" or "Boats" beach, recognized by the plain and clear calm waters, ideal for younger or for those who like to enjoy the sea without so much adrenaline.
Those seeking peace of desolate landscapes and enjoy a long promenade to the east, between the rocky paths that line the waterfront, choose escape to the Grande Beach, bordering with Santa Teresa's shore.
At night, the center becomes the required meeting point.
On the main street -which extends to few meters from the sea- ​​restaurants, bars and craft stalls open their doors to visitors of the town, brightening the end of the day with music of different styles, leading to no-hurry extensive dinner chats, that -for sure- will culminate with a leisurely walk to the chosen accommodation or to the beach, where you can still witness one of the most basic but already inaccessible from large orbs natural phenomena: the serene contemplation of a starlit sky or the captivating spectacle that offers the full moon illuminating the village.
Despite rising interest generated, there are not big hotels in Punta del Diablo. By contrast, the supply of rental houses -minimalistas but with all the amenities-, modern bohemian cut hostels, lodges, family beachfront hotels, a campground and multiplies Marine Farms, the favorite of those who want to have a shelter combining permanent access to great ocean beaches with unsurpassed tranquility of country life.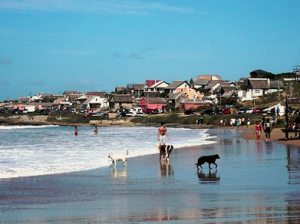 Some projects of this type offer large batches -of approximately 5,000 square meters each- with access to tennis courts, games for children, horse riding and safety and security service throughout the year.
Because of its location, a few kilometers from Chuy border with Brazil and -city Santa Teresa National Park, by the peculiar character of its development and its diversity of proposals, Punta del Diablo year to year is set as favorite spa Americans, Europeans and tourists from the region and is rooted in the memory of those who visit.