Located 20 minutes from Montevideo is La Tahona, an icon in gated communities in Uruguay. The development started with Lomas de la Tahona and today comprises four large spaces: Lomas, Altos, Viñedos and Chacras.


Lomas de la Tahona is recognized for being the oldest and most popular gated community in Uruguay. The development consists of 172 hectares with 355 plots of 1200 square meters each. Today more than 800 residents enjoy natural and peaceful surroundings.

Lomas de la Tahona has been developed next to a 18 hole golf course, where the houses form part of the landscape being surrounded by green and enjoy great views of the course. 100% of its streets are paved.


Lomas de la Tahona has a great social, cultural and sport life. It has a comfortable Club House where various events take place. It also features a private indoor barbecue area for smaller gatherings. For sports, aside from the 18 holes golf course and a driving range, it also has tennis courts and soccer fields where tournaments are held. In Lomas de la Tahona there is also a swimming pool and a restaurant to share unforgettable moments with family and friends.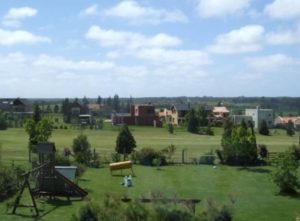 Lomas de la Tahona is known for having a high quality infrastructure (running water, irrigation systems, paving, lighting, underground electric system, landscaped green areas, sports, 24 hour surveillance, etc), and low maintenance costs.

A hotel and spa completes the list of services that makes Lomas de la Tahona a unique place of international level that allows its residents to have a rich family life, enjoying the outdoors with absolute freedom and peace.

Basic Services:
• 24 Hours surveillance
• Underground electric system
• Sanitation
• Running water
• Landscaped green areas
• Lighting
• Telephone
• Internet
• Cable TV