Improve your Rent Investing in Montevideo
• In Buenos Aires the property value is foreseen to drop 10 to 20% in 2 years. The income value is of 3% in Argentinian pesos.
• In Montevideo, in two years' time the property value will be 10% higher or more. The annual income value in dollars is 6%.
• In Uruguay, the foreign investment has reached record levels.
This is an excellent moment to invest in Montevideo.
The next two years, it is foreseen that the propertie's value in Montevideo will have risen 10% in dollars or more. This, apart from the fact that the value of annual income in dollars per rent is f 6%, makes it very convenient to invest your money in Uruguay
Meanwhile, in Buenos Aires it is foreseen that in 2 years the property value has dropped from a 10 to 20% in dollars; and the annual income value in pesos is merely 3%.
There is no doubt that by investing in Montevideo you are choosing a safe place and a fast way to improve your rent
Uruguay is a safe country to invest, and one of the reasons is the international credibility that it has won trough maintaining democracy, individual freedoms and political pluralism.
If you're thinking of investing in properties for a long term benefit, and of having firm savings in bricks, Uruguay is one of the safest countries to do this in all Latin America.
Apart from safety, incentives for investors, social stability, the nice climate and friendly population give all the investors a high quality of life.
Foreign investment in Uruguay reaches record levels
In 2012, Uruguay was the third country with greatest foreign investment in South America (5.4% of GDP)
Caldeyro Victorica Real Estate offers quality options where to invest your money safely, obtaining a high profitability in dollars immediately.
Orient Ribera Este building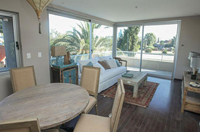 This building, developed by Grupo BPC, is located in a privileged zone next to Carrasco Este's lakes.
You can buy apartments with views to the lake, to the forest or to the neighbourhood's commercial area. There are 2 and 3 bedrooms units, from 100m2 to 200m2, and they are ready to go in. The building counts with heated pool, beach with coast to the lake and salon for multiple uses.

Oak Park Carrasco
Moreover, Oak building, developed by the group Real Estate Developers, is located in the heart of Carrasco, the best residential zone in Montevideo.
It includes 2 and 3 bedrooms apartments with excellent construction quality and details. All the apartments count with barbecue area and garage.
VIU Carrasco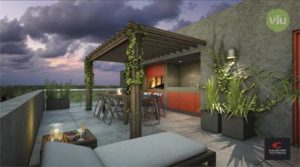 If you wish to invest in a functional Project of great quality with the best financial income, Grupo BPC's last project in Uruguay, VIU building, is the best option to live surrounded by forest. It is conveniently located near the beach and the lakes, and just 5 minutes away from the International Airport and the Free Trade Zone.
In this project, and being in construction, a financial business with Real estate support is proposed.
In VIU, you buy your apartment and you get the payment of the 5% of annual income over the invested money during 24 months, just as if it was rented.
Once the building is finished, the price of one unit is foreseen to rise 15% more in dollars, and the units annual income will be 6% in dollars.
If you're thinking of investing, the previsions of the real estate market show that Montevideo is a safe place and – in the short term – the properties' prices will rise, leaving you a good profit.
In Caldeyro Victorica we are Real Estate professionals and we will help you so you can get your best investment opportunity.
Do not hesitate to contact us for any of these buildings or other options in Montevideo