Isay Weinfield arrives to Montevideo with Magnolia 38. A design apartments building just meters away from Punta Carreta's Promenade that will be ready to go in by 2016.
The brasilian arquitect and designer Isay Weinfield is one of the most outstanding contemporary architects of Brazil and the world. In Uruguay, it already stands his renowned project Hotel Fasano Las Piedras, Punta del Este, Uruguay. Now he disembarks with his first project in Montevideo, Magnolia 38, together with Inscape Development Group, a Uruguayan- american group with projects such as Tamarindo building in its portfolio.
Magnolia 38 has a privileged location in one of the nicest neighbourhoods in Montevideo. Meters away from Punta Carreta's Promenade, Golf Club and Punta Carreta's lighthouse. Located just 5 minutes away from the Old City and World trade Center, and few steps from Punta Carretas Shopping Center, one of the most exclusive shopping centers in Montevideo.
Magnolia 38 offers spectacular views to the sea, capitalized through the design of glass from floor to ceiling, and balconies to the outside, making for a bigger inside space.
The materials and movements of the building cause a dynamism in the glass and metal façade, that will soon be an icon in the neighborhood.
Don't let go this excellent opportunity to buy your apartments off plan and be part of an innovative and unique project in Montevideo.
Magnolia looks into sophistication and to being part of the urban life's dynamism, to live in a privileged spot and to enjoy spaces. A big panoramic terrace in the last floor offers excellent views to the four cardinal points and allows relax, social events and free time activities. He building will count with 38 apartments of 2 and 3 bedrooms. All the units have wide living rooms and dining rooms with views to the sea, and confortable bedrooms that overlook the inner gardens of the complex.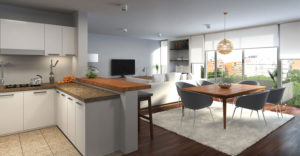 The architect Isay Weinfield is the mind behind some of the most emblematic buildings of Brazil, undoubted leader of contemporary architecture. Architect Isay Weinfield studio in Brazil is multidiscipline and develops projects in diverse areas. It has worked in residential corporative architecture, but also in hotels, furniture design, scenography, executive designs and interior design, among others. Such diversity is not random, it is based in that experience in different capacities contributes to improve performance, and in architecture and other areas, to widen horizons helps walk a learning path, and not to lock up in the same ideas all the time.
Each of Weinfield's projects takes into account important aspects such as localization, the calendar, last technological advances, the warmth of the spaces and materials and the construction details, but it also takes care that each building has a unique characteristic, a project identity. This results in each new Project of this architect to be an innovative construction, carefully planned and confortable, thinking of the future owner, and undoubtely unique.
If you wish to invest in an innovative project in a privileged location in Montevideo, do not hesitate to consult us for Magnolia building and others. Caldeyro Victorica Real Estate's professionals will work to recommend you your best business opportunity.