St. Patrick's Day is celebrated by the Irish and Irish at heart in big cities and small towns alike with parades, "wearing of the green," music and songs, Irish food and drink, and activities for kids such as crafts, coloring and games. Some communities even go so far as to dye rivers or streams green!
In Uruguay St. Patrick's day has been celebrated for several years. This typical Irish celebration has reached Uruguay and the Ciudad Vieja (oldest part of downtown Montevideo) turned green for one night. People flooded the streets from 6 pm and partied untill dawn.
The Shannon Irish pub hosted this event inviting Cetlic music bands like Grianan. Grianan has been a guest at the pub for St. Patrick's day celebrations since 2003.
The band was formed in March 1999 and is the first traditional Celtic music band in Uruguay. Its members come from different backgrounds of music: classical, baroque, country, traditional Scottish and Galician. This particular combination produces a sharp sound that combines rhythm, expression, emotion and the strong energy of Irish traditional tunes, arranged from various styles within and outside the Celtic genre. The repertoire includes various styles of traditional music from the Celtic nations: Ireland, Scotland, Wales, Cornwall, Galicia and Brittany.
Here is a video of Grianan performing in a Celtic music festival in Punta del Este.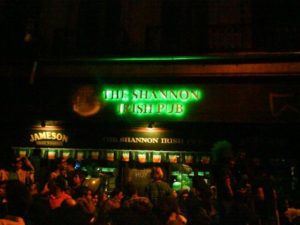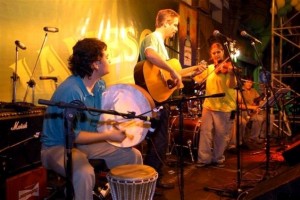 In Uruguay there is no St. Patrick's parade… yet. This is a day when everyone celebrates and gets together with friends. The Shannon Irish pub and others in the area were packed with people dressed in green and drinking wiskey and beer like there was no tomorrow.