The winner of the renowned Emporis Skyscraper Award 2010 is the Hotel Porta Fira in Barcelona. An expert committee annually presents this award to an exceptional building at least 100 meters tall completed within the award year. The critically acclaimed prize for global architecture is now in its 11th year.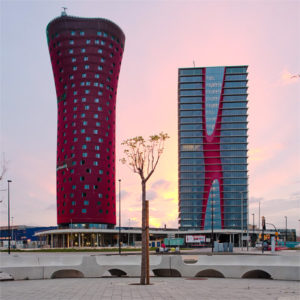 The winner was chosen from over 300 competing skyscrapers around the world. Porta Fira, with its fascinating visual appearance, beat the world's highest structure Burj Khalifa in Dubai, into second place. The jury valued the building's aesthetics and integration into its urban environment over humankind's fascination with building the tallest structure. Second place winner, Burj Khalifa, was especially heralded for its technical achievements.
The winner Porta Fira contorts to a height of 113 meters, with 26 floors, on the outskirts of Barcelona in L'Hospitalet de Llobregat. The two architecture companies, Toyo Ito & Associates and b720 Fermín Vázquez Arquitectos, conceptualised the surreal structure.
"The biggest challenge of the skyscraper is its organic design. The façade of red aluminium tubes form continuous lines enclosing the complex geometry of the building, which twists and increases in size as it rises"
Architect Fermín Vázquez.
More information on the Emporis Awards

Pictures: b720