A few minutes from Carrasco, in a unique setting, Carmel is found. This place was conceived as a space that combines the tranquility of the countryside and the comfort of the city.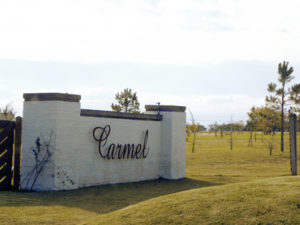 In 1998 an investor group of Argentineans, English and Uruguayans inspired in the real estate developments of Los Angeles and Miami, decided to create a gated community that combines an unmatched architectural design with the latest technology regarding services. Carmel was created with a complete and modern infrastructure looking for a new lifestyle based on security and tranquility.
The design and planning of the lots and streets of the gated community respect the environment following the undulations of the land. In the gated community Carmel one perceives the nature's tranquility in a surrounding of green spaces and gardens.
In this exclusive gated community the plots are surrounded by trees and lakes and have been planned and designed to preserve the privacy of each resident.
Carmel is set on 34 hectares, where only 60% of the area is destined to the 105 plots which are from 1000 to 2600 square meters. The remaining 40% is distributed between green areas, lakes, roads and spaces for recreation.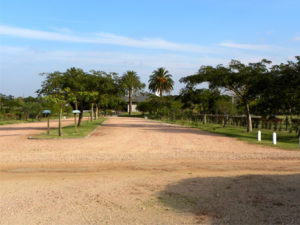 The Club House has an ample reception with views of the lake with a comfortable living room, a warm fireplace, library, kitchen and bathrooms. There is a more private area in the Club House and this includes a smaller independent reception area with a fireplace and cable TV.
Next to the lake there is a wooden deck with tables and chairs, a perfect place to enjoy the scenery and fresh air. There is also a small beach.
The Club House also has a private indoor barbecue area so residents can enjoy and celebrate special occasions with friends and family.
The sports area consists of a gym with weights, treadmills, stationary bikes, elliptical machines and other equipment of the latest technology. There are also tennis courts made with brick powder. The Club House has parking spaces for 30 cars and change rooms next to the massage tables and (shortly) a dry sauna.
Outside the Club House there is a beautiful swimming pool that is surrounded by lovely gardens that transmit tranquility and give privacy to its users. This makes it a perfect place to spend the summer days with the family.
For the little ones, completely independent from the Club House there is the Kid's House. This has pool, ping pong, kitchen and barbecue, internet, play area, bathrooms, hockey and soccer fields, volleyball court, golf, a playground and parking spaces for 22 vehicles. This is a space where kids and teens can safely have fun in a place that has been designed for them.
20 meters form the Club House is the main lake. It has 280,000 m3 and possesses a wooden dock ideal for sport fishing. Another particularity of the lake is the creation of a beach that allows residents of all ages to enjoy its nature and beauty.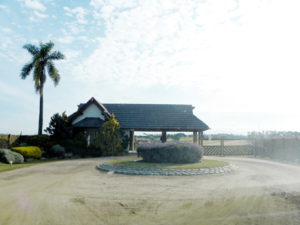 One of the most important aspects to consider when choosing where to live is security. Presently the possibility of raising our kids in a warm and safe environment is highly valued. Carmel makes it possible. It has a surveillance system that allows residents to have a life with total freedom, leaving the car keys in the ignition and their front doors unlocked without any type of problems. There are two types of alarms: one on the perimeter with sound and lights and one on each plot.
Both are monitored from the entrance control by a team of professionals. Carmel gated community also offers its habitants transportation with a system of private taxis and mini vans which have a schedule and its cost is included in the maintenance fees.
Come and get to know the best place to give your family and children an exceptional quality of life with the security you have always dreamed of next to nature. Carmel has a charm that nobody can forget.