If you are looking for a quality apartment in the zone with more growth next to Carrasco, one of the most valued neighborhoods of Montevideo, this new project in Av La Playa, in front to Roosvelt Park, is an excellent option.
The VIU building is located just steps away from the beach, from downtown of Parque Miramar and the lakes; 5 minutes away from the International Airport and 10 minutes away from Zonamerica, which employs more than 9500 persons.
It is a project which attracts young people (both single or with children), old people who want to live in Carrasco without spending fortunes or move to a smaller property and investors, because the building gives very attractive rents.
The apartments, of one and two rooms, have big dimensions and very good luminosity. The big windows allow beautiful views to the green surroundings of the park.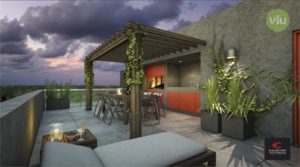 The building, that next month will start its construction, offers very good architecture and details for competitive prices in the real estate business in Uruguay.
As explained by Martin Cukier, from BPC Group, it is an interesting alternative for those who live in Zonamerica (a Free Trade Zone nearby) or in Carrasco a zone where the offices offer grows daily.
Caldeyro Victorica Real Estate commercializes the building. Do not hesitate to contact us for any question. It is an excellent opportunity to buy your property in a strategic zone of Carrasco, with all the services and in a unique place between parks, lakes and the beach.
The Argentinian newspaper La Nacion.com interviewed Martin Cukier, manager of BPC Group, who developed the building. See the full interview here for more information.
If you wish to get more information about this group's projects that Caldeyro Victorica commercializes, see them here.