On November 3rd of the present year, the Mayor Ana Olivera inaugurated the Esplendor Hotel Boutique Montevideo, located downtown Montevideo. The magnificent ex Hotel Cervantes is now part of the Esplendor hotel chain from the Argentinean Fën hotels. The nearly eight million dollars investment restored and modernized this hotel from 1927.
Fën, and Argentinean group opened the first boutique hotel in Montevideo. The chain Esplendor Hotels is known for renovating historic buildings. This project renovated the Hotel Cervantes, considered part of the historic heritage of Montevideo.
The Esplendor Hotel Montevideo is a central element in a plan to renovate the neighborhood and promote it as a neighborhood of arts. The plan incentivizes libraries, literary cafes and other similar businesses to come to the neighborhood.
ESPLENDOR HOTEL MONTEVIDEO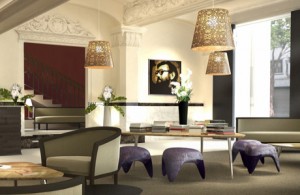 This 5 story boutique hotel is located in the corner of Soriano and Andes. It has 84 rooms and 164 beds. The hotel services and amenities include theatre, swimming pool, gym, spa, conference rooms, restaurant and parking.
Hotel boutique: This type of hotel originated in Europe. They are intimate and are located in antique buildings. The service is of very high standards and the décor is generally of a specific theme.
The Esplendor Hotel Montevideo is the ex Hotel Cervantes inaugurated in 1927. This building of Florentine style was a Montevideo icon. It was later declared historic heritage of the city.
Celebrities like Carlos Gardel, Jorge Luis Borges, Adolfo Bioy Casares, Atahualpa Yupanqui and Julio Cortázar, stayed at the Cervantes.
The property was listed by the Caldeyro Victorica Real Estate until the Fën group decided to purchase it.
THE FËN GROUP
The Argentinean group owner of the hotel is a client and friend of Caldeyro Victorica Real Estate. We are glad that they decided to purchase it. They have done a magnificent job, a detailed and careful restoration of the building respecting its history. The Esplendor Hotel is the first project of the hotel chain in Uruguay.
Fën Hotels is a leader in its industry in Latin America since 2002. Fën Hotels is owner of the 4 stars hotel chains Dazzler Hotels and Esplendor Hotels. Fën administrates 21 hotels in Argentina, Panama, Paraguay and Uruguay and has other projects planned for 2012.
The Esplendor hotel chain specializes in recovering antique buildings. Just like the hotel in Montevideo, they have similar endeavors in Buenos Aires and Rosario where we stayed. We most definitely recommend them.
PLANS FOR URUGUAY
Patricio Fucks, president of Fën Hotels, said: "It is our intention to continue developing our hotels in Uruguay as part of our expansion plan in South America". He also mentioned they are planning to build in Punta del Este a state of the art Hospitality and Tourism University due to the fact that this area is in constant development and Uruguay is an important tourism center in the region.