When planning to decorate a room, you should take the lighting into account. Achieving a good lighting will make the room more comfortable and cozy, and even make the room appear larger.
There are 4 different light types.
1. Natural Light

Here are some ideas to take advantage of the natural light:
Dress your windows with light curtains.
Try to avoid putting furniture that block the sun light.
Using mirrors will reflect the light and make the room brighter
The furniture, accessories and walls should be in light or neutral colors and the finishing can be shiny or glossy. This will multiply the light in your living room.
2. General Light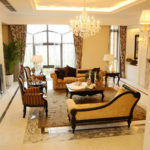 Having a uniform lighting to visualize the whole room is important.
Having a main light source hanging from the ceiling and adding some lamps throughout the room is very common today.
Another option is to have a light fixture that has several lamps that can be pointed in different directions.
Halogen lights are perfect for the general lighting of the living room. Install them 1 meter apart in order to avoid shadows. A dimmer will allow you to decide the light's intensity.
3. Ambient Light

It creates different zones. Table lamps and floor lamps allow you to enjoy reading a book or watch TV without a strong and glaring light.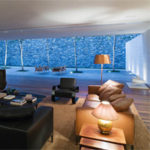 Ambient light is right for:
The sofa: when enjoying a book or watching tv. It should be a low intensity light it should not be a glaring light.
The reading area: to read comfortably.
Side tables or storage area
4. Spot Light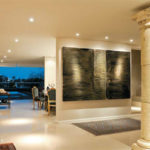 This light is great for highlighting paintings, bookshelves and the dining area.
If you use the different types of light to your advantage your living room will be inviting and comfortable.