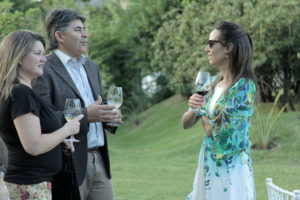 In December 2014 Caldeyro Victorica Real Estate presented Oak Park Carrasco building, by architect Alberto Baldomir. The event included cheese and wines degustation, as well as the presence of Chef Hugo Soca, who surprised everyone with his delicious products, while accompanied by violin music. The aim was for clients and friends to know the building from inside and be the protagonists of the occasion.
The event took place in the gardens of the building, located in Av Italia, meters away from Carrasco's downtown. According to architect Mariana Caldeyro, director of the Real estate firm, the building has "a very particular style, hip roofs, wooden balconies and stone façade. It preserves the same style as the traditional houses of the neighborhood, with an excellent construction quality".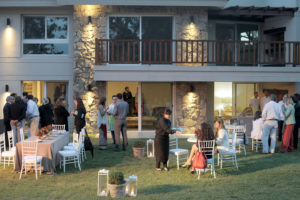 The building has 34 apartments of 2 and 3 bedrooms, terraces with pergola and barbecue, individual heat, garage for two cars and 24 hours security. It offers the security and comfort of an apartment, with the park and green spaces of a house.
There were several guests in the event, such as clients and friends of Caldeyro Victorica. Journal El País also took part of the activity. Read the journal's article here.
If you wish to invest in an innovative project in a privileged spot of Montevideo, do not hesitate to consult us for Oak building or others. Professionals in Caldeyro Victorica are specialized in helping its clients for them to get the best investment possible. Do not hesitate to contact us to have further information about the best business opportunities for your money.