Land Prices according to the Area and their Use
First semester of 2012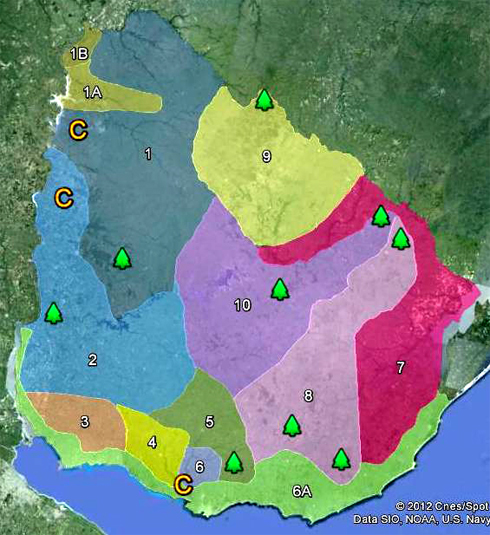 Which are the main uses of the land in Uruguay?
What are the prices?
We have developed to map of Uruguay as to guide to identify homogenous areas according to the actual and potential use of the land. It is important to point out that to regionalize what we took into account was the present main activity. Therefore, in to same area there could be actual and potential uses different to the ones shown.
| | | | |
| --- | --- | --- | --- |
| AREA | Potential and Use per Area | Department and Location | US Dollars per Hectare |
| 1 | NORTHWEST. Cattle raising and complete cycle, Sheep, Citrus, Forestry (eastern area) | Artigas, Salto, East of Paysandú, West of Tacuarembó | 1.500 to 3.500 |
| 1 A | NORTHWEST. Rice, Cattle fattening | Southeast of Artigas, Northwest of Salto | 2.500 to 4.000 |
| 1 B | NORTHWEST, Intensive Productions | Northwest of Artigas | 3.000 to 5.000 |
| 2 | LITORAL WEST, Intensive Agriculture, Soy-Wheat-Corn, Cattle fattening | West of Paysandú and Río Negro Soriano, Flores, West of Florida | 7.000 to 12.000 |
| 3 | SOUTHEAST Corn-Sunflower-Soy-Wheat, Dairy Production Area | Colonia | 5.500 to 10000 |
| 4 | SOUTH Intensive Agriculture, Irrigation, Dairy, Citrus, Potato | San José and East of Colonia | 5.000 to 10.000 |
| 5 | CENTER SOUTH Dairy Production, Cattle fattening | Southeast of Flores, South of Florida and Center South of Durazno | 3.500 to 8.500 |
| 6 | SOUTH Intensive Agriculture, Horticulture | Southeast of Canelones | 4.500 / 8.500 |
| 6 A | SOUTH Real Estate – Tourism | Influence area of Montevideo, Punta del Este and ocean coast in general | 8.000 / 100.000 |
| 7 | LITORAL EAST Rice Area, Cattle farming (full cycle and over-wintering) | Rocha, Center and East of Treinta and Tres, East and Northeast of Cerro Largo, Basin of Laguna Merín, South of Tacuarembó, Basin del Río Negro | 3.000 to 4.500 |
| 8 | CENTER EAST Extensive cattle farming, Forestry | Center West of Cerro Largo, West of Treinta y Tres, Lavalleja, North of Maldonado, Minas | 2.500 to 4.000 |
| 9 | NORTH Cattle Raising and complete cycle, Cattle fattening, Agriculture, (Soy, Corn, Wheat), Forestry | Rivera and Center North of Tacuarembó | 2.500 to 4.500 |
| 10 | CENTER Cattle farming (complete cycle), Agriculture (Soy), Forestry | Center South of Tacuarembó, Durazno, North of Florida and East of Flores | 3.500 to 5.500 |
| | | |
| --- | --- | --- |
| CITRUS AGRICULTURE | | 4.000 to 10.000 |
| FORESTRY: Pine trees, Eucalyptus, Olives | Center South of Paysandú and North and Center West of Río Negro, East of Artigas and Salto and West of Rivera, Northwest of Tacuarembó and West of Cerro Largo, Southeast of Lavalleja , Northwest of Maldonado and Rocha, Center and Northeast of Durazno and North of Florida | 2.500 to 10.000 |